We are now in the big time. From here on out we have some big time acts with amazing music. Not much else to say, but here is the music: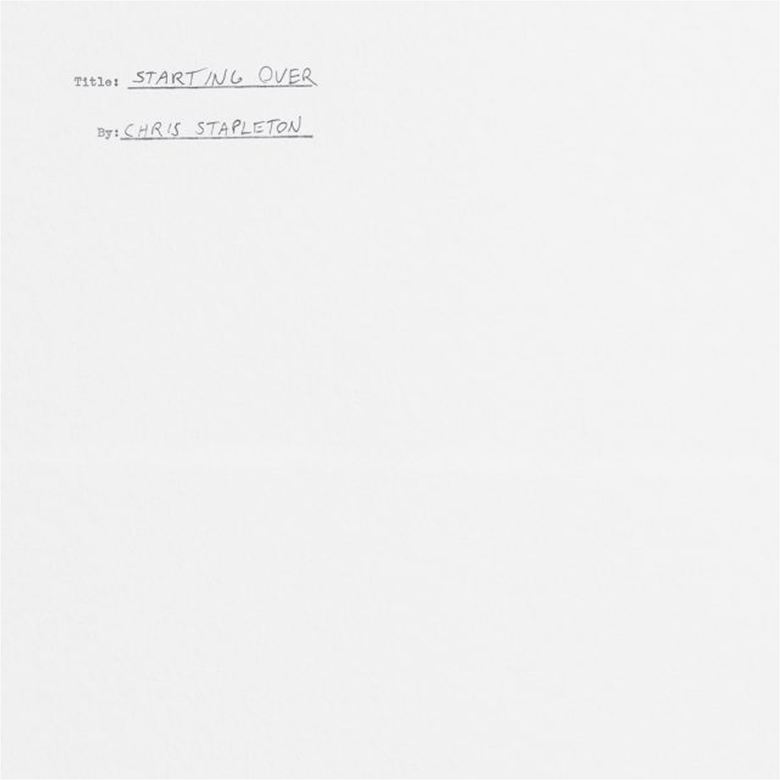 20. Chris Stapleton: Starting Over
Stapleton touches on a major theme of 2020, which is getting through tough times with friends and loved ones. He sings about going through tough times and leaving town for a better life. There are going to be ups and downs, but you can make it through with a loved one or good friend by your side. It will be difficult, but sometime you will "look back and smile." This is Stapleton's first record since his Earth shattering album From a Room Vol 1 and Vol 2 in 2017 and he has not missed a beat. His soulful country vocal and stripped back acoustic guitar are still amazing and his song writing is top notch. Starting Over is a good reminder that the best country is one mixed with a dash of souls and blues.
Listen to Starting Over
19. Beyoncé: Black Parade
This list is so stacked that the first time we see Beyoncé is #19 and I love Beyoncé. Don't worry, we'll see her again. Much like other singles released in 2020, Beyoncé takes on Black Lives Matter and black pride. She combines African imagery and pride in being a black woman into a call to action. Musically, this is reinforced by a marching beat, which alludes to activists in the street. She sings about black love, her black skin, her femininity and African images. Beyoncé links her African heritage to her black pride and how that pride in history / the "motherland" gives her the strength to stand up in the face of racism and police brutality. Her vocals are spiritual…why didn't I put this higher on the list? Man, there must be some great music on this list.
Listen to Black Parade
18. Robert Glasper ft. Kamasi Washington, Herbie Hancock and Rapsody: The Mighty Tree
Robert Glasper is a highly talented modern jazz musician who can seamlessly combine jazz and hip hop. He brings in fellow modern jazz artist Kamasi Washington and jazz pioneer Herbie Hancock to create a masterpiece about black pride. This is a mix of smooth and acid licks with Rapsody's powerful verses blasting through the haze. Similar to Beyoncé she talks about her strong African roots, like a tree, and how it is time for black people to demand justice. This is a powerful track about history, racism and strength. Musically impeccable and lyrically powerful.
Listen to The Mighty Tree
17. Phoebe Bridgers: Kyoto
This is our second look at Phoebe Bridgers, who has had a busy year. She is up for a Grammy, did a wonderful Christmas cover of a Merle Haggard song and continues to put out music. Most of the tracks on this list have heavy themes of COVID, lockdown, isolation and Black Lives Matter. However, this track brings in some much needed fun and escapism. Phoebe excels in this guitar and synth driven indie rock thrill ride. She sings about Kyoto and flying over the city in an adventure of sights and sounds. It is pure fun you can bob your head to and momentarily forget about the virus and civil unrest around you. There is something to be said about some fun escapism and this track delivers.
Listen to Kyoto
16. Burna Boy ft Chris Martin: Monsters You Made
Burna Boy has risen out of Nigerian hip hop / dance to be a driving force in international music. This track is one of his most socially active and well written tracks to date. Burna raps about injustice and how African education lied to him about how white colonisers brought civilisation to Africa. He often talks about the pain and rage brought on by slavery and racial violence, which destroyed his home. Whites have called African monsters, but it is from the pain and suffering white people caused. It is not enough for white people to acknowledge this pain, but they must face up to what happened. The fact he has Chris Martin, a prominent English singer, on the track is a meta move that illustrates how white people must be held accountable for what they did. This is a powerful song that humanises large concepts like slavery and the colonisation of Africa.
Listen to Monsters You Made
We are nearing the top five and the tracks keep getting better and better. 2020 produced some incredible music, which will resonate for years to come…and we are not even at the top 10 yet. Imagine what is coming up!