My birthday was a few days ago and I realised that music has been a part of my life since I remember. This probably explains why I do a cigar and music podcast. I love music and I thought it would be fun to look back at the major musical instances in my life, which have led me to what I listen to now. Music is a very personal media, so these records also have very personal connections. I highly suggest that you do this for yourself. Here we go:
The Robin Hood Soundtrack is the earliest piece of music I remember listening to. I had the record as a child and loved listening to the songs and bits of dialogue on the album. For a lot of children their first experiences of music are what their parents listen to and Disney movie soundtracks. This set me on my path to appreciating music and I still listen to tracks off of this to this day.
My dad's vinyl collection was a huge influence on me and I now own most of these records. As a 9 or 10 year old I made a mix tape of Disraeli Gears, Let it Bleed, The Doors, ZZ Top's First Album and Bridge Over Troubled Water. I called it Dad's Vinyl Mix and I listened to it for years. This not only started my love of music, but also my love of vinyl. My dad was a huge music guy…I mean he had reel to reel magnetic tape of Miles Davis….REEL TO REEL! His music collection will make another appearance on this post. This time in my music life really opened me up to a world of music.
This was my gateway drug to music. I picked up this record maybe when I was 12. After one listen I wanted everything Zep. I even subscribed to a Led Zeppelin fan zine…shout out ZOSO from San Francisco…and ordered bootleg tapes from the marketplace section in the zine. Led Zeppelin I led me to investigating blues and later getting into punk / hardcore. This is really when I started my own music collection and enjoying the art of talking about music with other music nerds. Led Zeppelin is still one of my favourite bands and why I lean so heavily towards guitar based music.
Like most people, the radio was also a big influence on my music life. I would listen to top 40 as well as 93QFM in Milwaukee. QFM specialised in metal and 70s rock. They would always have "Rocktober" and "Get the Led Out" segments during the day. This is where I heard Quiet Riot's metal opus Metal Health. This is when I knew that music can be dangerous. I would throw on this record and my buddy Dave would talk to me about his favourite record Theatre of Pain by Motley Crue. We were some badass third graders.
If you grew up in the 1980s and 1990s hip hop was a big part of your life. My cassette of NWA's Straight Outta Compton not only reinforced that music is dangerous, but also that music can take on the government. I went on to listen to Public Enemy, Black Sheep, Wu – Tang Clan, X Clan and Ice T. I was exposed to social issues I would not have engaged with otherwise. I think hip hop and punk have a lot in common, which is why I connect with both. I believe that this time in hip hop started the seeds of activism in me that continue today.
Nirvana's Nevermind changed everything. I never thought music could do this and speak to me on this level. The anger of youth was perfectly summed up in this record as we all watched outsiders take on the industry and crush it. I could go on and on about this record, but it served as a springboard into punk / hardcore, which will further reinforce my activist side. Nevermind taught me that I had a voice that needed to be heard. I love this record.
I stole my dad's Uprising CD and made it my own. Bob Marley's final studio record brought me into the world of reggae, which I still love to this day. At the time, this record exposed me to a genre I knew very little about, but felt a strong connection with. Now I look on that music and see the social commentary and rebellion within those smooth grooves.
Getting into punk was a big moment for me. I would go to Earwaves in Milwaukee and spend all my money on 7″ records of Minor Threat, Black Flag, L7, Bikini Kill, Dead Kennedys and Youth of Today. The social activism, taking on the system and rage really connected with me. The unbridled raw expression behind punk is what makes music great. I still listen to punk and still love the raw emotion behind the music. TURN IT UP!!!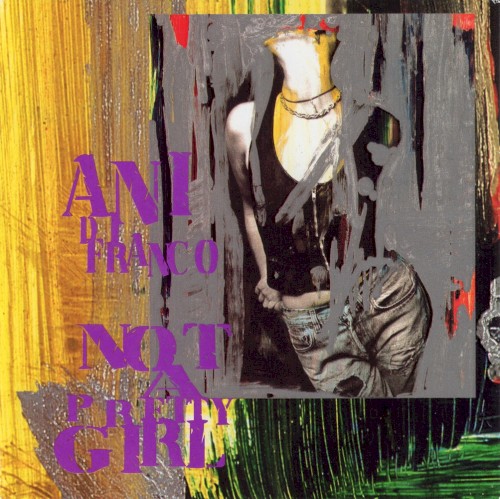 The next two big music periods for me happen in college as I made my way through UW Madison…GO BUCKY…and was exposed to music I never heard growing up in rural Wisconsin. Ani DiFranco is a huge inspiration for me and her record Not A Pretty Girl exposed me to feminist themes I never thought of before. Her work challenged me to look at my own beliefs around gender and evaluate them. I currently work at a feminist organisation and Ani's work still speaks to what I see in society everyday. This is a great example of how music can teach you things about yourself.
I thought I heard everything music had to offer, until I listened to OK Computer. Radiohead deconstructed pop music and blew my mind. I never thought music could sound like this and was amazed that people could create such a record. This re-energised my love of music and I had a new drive to find new music. I love this record and Radiohead is still very important to me.
I thought I was all set for music. I knew what I liked and nothing was going to change my mind. My interests were set by the end of college and I was above pop music. I was a serious music person by now and such things as Taylor Swift were below me. That was until my daughter got me to listen to 1989 before I took her to the Taylor Swift concert. Wow was I wrong. This is a perfect pop record and I am now a huge fan of Swift's work. This record taught me to never judge a book by its cover and I always have new things to learn. My experience with this record still drives me to listen to everything out there and fall back in love with music and new music. Thanks Taylor.